The Senior Surgeon - Dr Simos Kyriakides MBBCh, FRCS. FCS (SA)
Dr. Kyriakides is a fellow of the Royal College of Surgeons (FRCS) of Edinburgh and a Fellow of the College of Surgeons of South Africa.
He qualified in 1982 as a Bachelor of Surgery at the prestigious University of Witwatersrand in South Africa.
He moved to Cyprus in 1992 and opened the Simos Kyriakides Clinic in Larnaka where he still practices.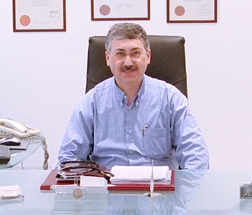 He specializes in general surgery, especially in laparoscopic hernia procedures and in surgical procedures for obesity and for thyroid problems.
In the field of laparoscopic or "keyhole" surgery he specializes in hernia repairs, cholecystectomy (removal of the gallbladder), and is a leading surgeon in bariatric surgery in Cyprus having done many gastric bands and gastric sleeves for obesity.
Dr Kyriakides has two daughters, who are UK qualified doctors.