The Simos Kyriakides Clinic is a fully equipped surgical clinic capable of a wide range of surgical procedures, but as our international clients must be in such a condition that they may travel, and be able to convalesce (usually) within two weeks ; we limit our available procedures (to our international patients) to the following - unless by special arrangement. However, we offer the full spectrum of general surgery procedures to our permanent residents.
Hernia Repair & Laparascopic Hernia Repair
Laparascopic Cholecystectomy (Gall Bladder Removal)
Laparascopic Diaphragmatic Hernia Repair
Stomach Sleeve (for weight loss)
Gastric Band (Keyhole Surgery)
Varicose Veins - Laser treatment (Angiodynamics)
Breast Surgery (& oncoplasty - Including Reconstruction )
Thyroid Surgery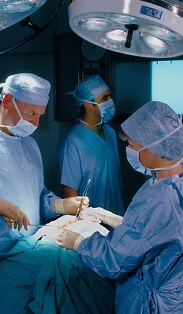 Requirements for Surgery.
Patients are required to undergo certain laboratory analysis, x-rays or other tests pre operatively to ensure it is safe and/or appropriate for them to undergo the procedure they seek. We will advise you as to these tests before you confirm your booking.
They can be performed in your own country or here is Cyprus but they must be recent - otherwise they will need to be repeated. Recent means within 30 days - unless special circumstances apply in which case within 72 hours.
If you are taking any medications - such as anticoagulants - we do need to know. This is not necessarily a bar to surgery but the more we know, the safer you are. For this reason we will need full information on your medical history before confirming your appointment.
As a (very) general rule, if you are fit to fly then you are fit for surgery.
On VERY RARE OCCASIONS it may not be possible to complete a surgical procedure as planned (for example with laparoscopic techniques) and it is at the surgeons sole discretion in all cases to perform the safest and most appropriate procedure for you.
Both on and off-line, we will respect your confidentiality under all and any circumstances.
For your enhanced privacy, your personal data or the details of your stay with us will not be disclosed to any third party at any time without your own specific written permission.
We honour our ethical obligation to our patients in terms of full confidentiality of personal data.